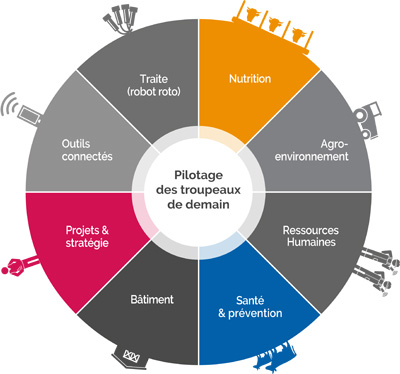 Development of strategic alliances
Dairy sector (OP and companies)
Content : Mastitis Plan, Eco-antibiotics, forecast for daily deliveries.
Finalised agreements OP Bongrain, Sodiaal, Terra Lacta.
Animal genetics (OS and ES)
Stakeholder in the Valorial competitiveness cluster for the creation of additional indexes.
Stakeholder in future livestock breeding associations.
Seenergi Consulting
Specialised skill set composed of experts and specialised consultants.
The economic performance is guaranted by :
Technical skills : nutrition, health, reproduction, milk quality, building… ;
People skills : HR organisation for major herds, task sharing... ;
Economic skills : security for decision making.
R&D Reveal milk's secrets
New indicators :
Gesta'detect® :
Gestation indicator.
Bacterio'detect® :
Identification of the germs responsible for Mastitis.
Céto'détect® :
Ketosis indicator.
Modernisation of data collection
Evolution of offers adapted to current technologies (milking robots, rotaries, computerised milking parlour).
The right indicator at the right time (milk, water, forage).
Creation of training for milking robot use
Leading skill set in knowledge of running automated installations and the training of specialised consultants
Monitoring and sensors on farms
Taking over of Médria with ITK, CCPA and Sofiprotéol.
Deploy a Seenergi joint offer.
Furnish indispensable information for daily running of the operation.
Multiplex and make the data speak.
Specialised skill set in the approach to major herds
More than 1000 major herd farms (+100 Dairy Cows).
Meat genotyping
Development of a joint offer with selecting bodies to increase Bovine Meat genetic progress.
Goats
Strategic reflection.
Improvement of technical and economic performances….